The Denver and Lakewood Colorado Criminal Attorney Who Won't Back Down from a Denver Fight
Across the United States and right here in Colorado, the criminal justice system is supposed to be designed to protect the little guy. To make sure that those in charge are not able to abuse their power. To protect the rights of the accused. To do everything possible to ensure no innocent person is ever found guilty.
This ideal, however, seems to have gotten lost somewhere along the way. We have a media that immediately sensationalizes crimes, judging people in the court of public opinion before their legal cases can even begin and potentially impacting those cases.
We have law enforcement officials so focused on securing convictions that they sometimes violate rights and bend the law as far as possible to get them. We have cases that are rushed through the court system and defendants who are given little attention, time, or ability to plead their case.
JEFF WEEDEN
Criminal Defense Attorney
A Highly Respected Colorado Trial Attorney
Jeff Weeden has received multiple national distinctions, including:
As someone who has worked as a Colorado criminal defense attorney since 2005, Jeff Weeden has seen all of this and more. He understands the various ways that those accused of crimes get "squeezed" by the system and how easy it can be to find yourself railroaded. His mission at WeedenLaw is to make sure this does not happen to you. How? By getting someone on your side who knows how to fight back using the law and is willing and able to do so – no matter who is on the other side or what you have been accused of doing. He believes that everyone not only deserves the right to a fair and impartial trial, but to the strongest defense possible. That is exactly what Mr. Weeden has been providing for his clients throughout his legal career, and if you choose to work with him, he will do everything in his power to get your charges reduced, dropped, or dismissed – just as he has been able to do for countless others like you.

What Makes So Many People in Denver Choose Jeff Weeden as Their Criminal Attorney
The greater Denver area has no shortage of defense lawyers. So, what makes people decide to work with Mr. Weeden when they have been charged with a crime?
He treats them with humanity. One of the most difficult things about being charged with a crime is your identity starts to become the charge, and many people treat you as such. You become a case number. No one cares about your plight. No one cares about your side of the story.
Jeff Weeden does, though. He understands that this is not just another case for you – it is your life, your family, and your future. That is why he always fights to make sure that his clients' rights are protected and that they are treated well. It is why he demands time to sit down with them to talk about the situation, make sure they understand the charge and the options available to them, and learn what their goals are and what outcome they hope to achieve.
Some attorneys – even very good ones – only see facts and figures when a new case comes across their desk. They know from experience that they can probably get a specific outcome based on the facts and immediately push for that outcome. When you work with Mr. Weeden, he will share this information with you, but also ask what you want. Because he knows the answer is not the same for everyone.
He has an incredible understanding of criminal law. Every lawyer must go to school for years and pass the bar in order to practice law. This was just the beginning for Mr. Weeden though. Over the course of his legal career, he has taught college courses in criminal law and the legal environment of business. He has been published in places like the Ave Maria Law Review and The Colorado Lawyer, and his articles have been frequently cited in other research.
Bottom line? When you choose Jeff Weeden, you are getting an attorney who has the nuts and bolts of criminal law down. He will not be stumped by a little-known legal issue or precedent and will not hesitate to use his knowledge against the other side.
Jeffery is also a Coordinating Editor at The Colorado Lawyer and an Adjunct Professor at the George Washington University in DC.
He gets results and recognition. One of the most important questions to ask about any lawyer is quite simple: how do their cases turn out? With Mr. Weeden, you can see this clearly by looking at his results page. It is filled with specific cases where he was able to get charges dismissed, have protection orders denied, and so on. Additionally, you can read testimonials by former clients attesting to how happy they were with his services.
Denver Criminal Charges That Jeff Weeden Can Help With
WeedenLaw has been able to successfully take on all kinds of criminal cases. The best thing to do if you want to know if we can help with your specific charge or charges is to get in touch with our office. Once we know the specifics of your situation, we will be able to explain what options are available to you.
The most common types of charges we deal with include:
Again, these charges are not even close to exhaustive. Whatever your alleged offense, reach out to us and we will see what we can do to help.
Contact WeedenLaw Today to Get Started on Your Colorado Criminal Defense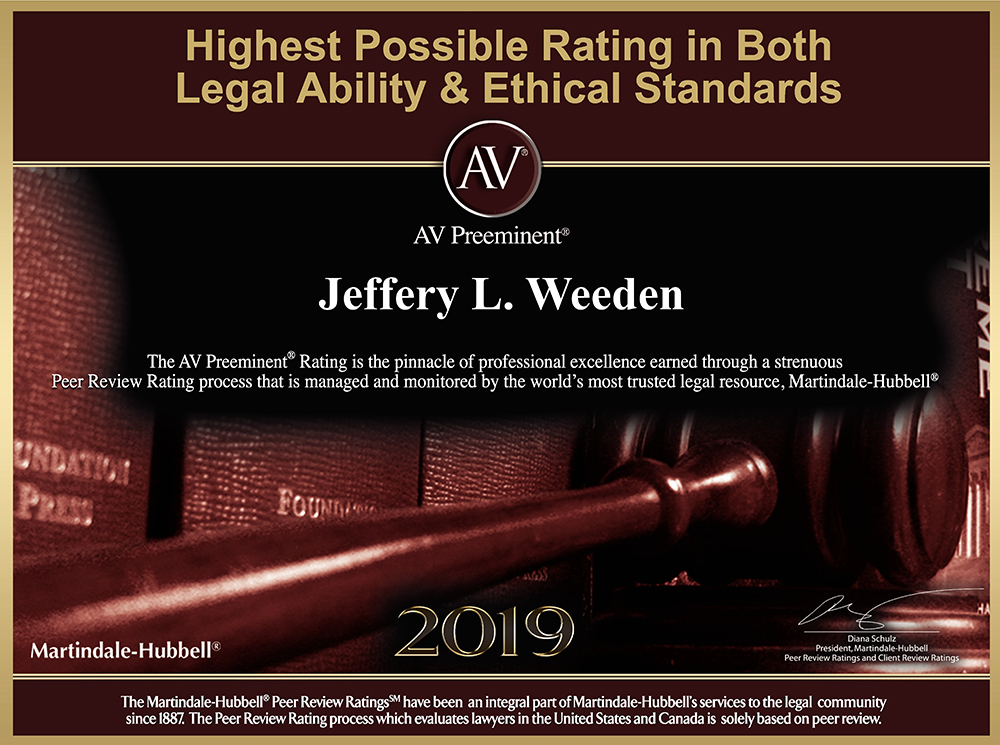 Want to give yourself the best chance at a positive outcome? Get in touch with our office immediately.
The sooner you start working with a skilled and experienced Denver defense attorney like Jeff Weeden, the more likely you are to achieve the outcome you want. Why? There are a couple of reasons.
First and foremost, the longer Mr. Weeden has to craft your defense strategy, the stronger it is going to be. All waiting does is give the prosecutor even more of a head start.
Second, there are certain types of evidence that must be collected quickly, or you will not be able to use them. Unfortunately, prosecutors are only interested in evidence that supports their case against you – not something that might potentially exonerate you or bolster your argument. That means you need an aggressive lawyer pushing to make sure all helpful evidence is gathered and used.
Finally, if you have a knowledgeable lawyer by your side when police and others are questioning you, it is far less likely that you will say or do anything that could potentially hurt your case.
Ready to get started on protecting your future? Fill out our simple online contact form or give us a call at 720-307-4330.